Appendix A
Biographical Notes 11 - 20
11. Judge Thomas H. Bacon.
The following biographical sketch of Judge Thomas H. Bacon appeared a few years before the murder of Amos J. Stillwell in 1888 in The History of Marion County, Missouri, by E. F. Perkins, 1884, at p. 907:
THOMAS H. BACON, son of George and Catherine (Lakenan) Bacon, was born in Palmyra (Missouri), July 10, 1839 but became a resident of Hannibal March 3, 1847. He received an academical education. At the age of seventeen he became clerk in his father's store, but pursued the study of the Latin and English classics in all his leisure hours. He became a law student about 1859, and so continued until June 14, 1861, when he reported to Governor Jackson's call of June 12, 1861. The news from Boonville having dispersed his companions, he, after remaining in seclusion for a time, set out alone for the Missouri army, June 23, 1861. He dismounted near Fulton and went to Columbia. Thence, on June 28, he proceeded on foot, crossing the Missouri river at Providence and passing through California, Versailles, Cole Camp, Warsaw, Quincy, Humanville, and Greenfield to Carthage, avoiding en route, the troops of Gen. Lyon on the east and Gen. Sturgis on the west. He was arrested by the Union Home Guards of Cole Camp and Dade county, but released. He reached Gen. Price's army at Cowskin Prairie July 12. Being mistaken for a spy he was at first arrested by Col. Hughes, of Gen. Slack's division. Having been identified he was released and immediately joined Capt. Carter's company, M. S. G., Burbridge's regiment, Clark's division. His subsequent military career may thus be epitomized. He borrowed a rifle and served in the ranks until August 10, 1861, when on "Bloody Hill," in the battle of Wilson's Creek, he received an ounce ball in the right groin. He then retired by permission of the staff, but on observing that the State troops were falling back he returned into the action, passing through the line of battle and recovering his gun. He passed the night on the field held by the State forces. December 31, 1862, he sailed from the head of Pocomoke Sound, Maryland, across the Chesapeake Bay into Indian Creek, Virginia; was reporter for the Richmond Whig in the Virginia State Senate until the close of the session; enlisted in the Confederate service April 10, 1863; was first ordered to Fort Beauregard, La., thence to Jacksonport, Ark.; June 6, 1863, was elected second lieutenant of Company D. Sharpshooters' Battalion, Gen. Monroe M. Parsons' Brigade; took part in the battles of Helena and Little Rock; was judge advocate of division court martial January 2, 1864; was commissioned first lieutenant of artillery, February 3, 1864, after a rigid examination, graduating second in a large class. October 1, 1864, was made captain of artillery, after another severe examination, ranking second in a class of five graduates. June 26, 1865, the war having ended, he gave his parole of honor not to again take up arms against the United States, and July 10 started for his home. On his arrival at Hannibal he resumed his law studies, and December 12, 1865, was admitted to the bar. May 7, 1875, he was licensed to practice in the United States Circuit Court, at St. Louis. Since January 1, 1867, he has been engaged in the practice of the law, devoting especial attention to civil cases. In 1877 he prepared a monograph on the township bonds of Missouri, a production of great usefulness and merit. He was married November 30, 1876. Mr. Bacon cast his first vote in 1860, for Stephen A. Douglas for President, and ever since has voted the Democratic ticket.
George Bacon, Sr., father of Thomas H., was the son of Henry and Mary (Parker) Bacon, and was born near Laurel, Sussex county, Delaware, November 15, 1809. His ancestors were English, and for two generations had been Methodists, and at the age of sixteen he also became a member of the same church. At the age of seventeen he became a clerk in Baltimore, but being required to exaggerate the merits of his wares he resigned the position, and returned to Laurel, where he clerked until he became of age. With means thus acquired, and some parental aid, he commenced business for himself, and carried on merchandising until 1835, when he visited Missouri. He then joined the Washingtonians and lectured for a time on temperance. He came to Palmyra in 1836, and was a prominent merchant of that place until his removal to Hannibal, March 3, 1847. Mr. Bacon was married at Palmyra, to Miss Catherine Lakenan, September 6, 1837. She was a native of Fairfax county, Virginia, and also of Methodist parentage. Pending the church separation of 1844, Mr. Bacon, as trustee, locked the doors of the church and successfully expelled the minister in charge. This proceeding created excitement at the time, but was afterward sustained by the highest judicial power. In March, 1855, as member of the city council and chairman of the committee he performed an important part in maintaining the negotiations between the city and the Hannibal and St. Joseph Railroad for its municipal privileges. From the period of the war to 1872, the house of George Bacon, then George Bacon & Sons - Robert L. and George, Jr. - composed the leading wholesale grocery establishment in the city. Retiring from business January 1, 1874, his health, always frail, rapidly declined, and he died August 19, 1874.
12. David Dubach.
David Dubach was the President of Hannibal Milling Co., which operated the Empire Mill located at the foot of Broadway according to the History of Marion County Missouri, by E. F. Perkins, 1884.
13. Peter Essig.
The following biographical sketch of Peter Essig appears at p. 457 of The Mirror of Hannibal, C. P. Greene, 1905 (revised edition 1990):
PETER ESSIG
This leading South Side shoe merchant was born in Kindenheim, Bavaria, (Reinpfalz) Germany, Sept. 16, 1840. He is a son of Valentine and Elizabeth (born in Breidenbach) Essig. Valentine Essig was a farmer and trader in country produce. Our subject was educated in the land of his birth and came to America in 1860. He located in New York City, where he remained for three years, at the end of which time he removed to Syracuse, N. Y., remaining there until 1866, when he came to Hannibal.
Having learned the shoe-maker's trade in his native country, he followed that occupation in New York, and upon arriving in Hannibal, was employed at the bench for one year. At the end of that time he opened a shop for himself, and for many years Mr. Essig had all he could do in making boots, as few shoes were worn in those days. In 1872 Mr. Essig opened his first store, in connection with his shoe-making shop, which is the one he now occupies. He carries in stock a fine line of all kinds of foot wear.
In 1867 Mr. Essig was married to Miss Almyra Holtzman, a native of Hannibal and daughter of Peter and Magdaline (Doll) Holtzman, natives of Germany. Mr. and Mrs. Essig are the parents of seven children, one dying in infancy. They are Magdaline, George, who married Miss Louisa Schanbacher, Anna, William F. (deceased), Frank, Henry (deceased), and Caroline.
Mrs. Essig died in 1896. She as well as Mr. Essig were both members of the Evangelical Lutheran Church.
Mr. Essig is a member of the I. O. O. F., Mystic No. 17, and also the Retail Merchants' Association. Politically he is a Republican and takes quite an active interest in the success of that party.
14. Van Buren Lefever.
The following biographical sketch of Van Buren Lefever appeared a few years before the murder of Amos J. Stillwell in 1888 in The History of Marion County, Missouri, by E. F. Perkins, 1884, at p. 650:
VAN BUREN LEFEVER. The subject of this sketch was born in Marion county, Missouri, July 22, 1832. He is the son of Samuel and Rebecca (Kelsey) Lefever, both of whom are still living. Mr. Lefever received a good English education in the common schools, and at the age of twenty-five entered the Vermillion Institute at Haysville, Ohio. He attended this institution for about a year, and then engaged in teaching in the schools of Ohio, Missouri and Illinois. During his stay in Ohio, Mr. Lefever was a voluntary exile from his home, owing to the fact that he deemed his life unsafe where the authorities would permit such outrages as the barbarous butchering of an innocent person - his brother having fallen a victim to such lawlessness. In 1859, Mr. Lefever lost his right arm below the elbow, by having it caught in the cylinder of a threshing machine, but notwithstanding this misfortune he now operates a steam power machine. In 1861 he was elected assessor of Marion county, and served faithfully and with much credit to himself. He did not receive pay for his last year's services until after the close of the war.
During the time he was teaching in Ohio, Mr. Lefever formed an attachment for one of his lady pupils; they kept up a correspondence after they were separated, and in 1866 the lady's father, Jacob Sarber, visited Missouri, and through the courtesy of Van Buren Lefever, he became so favorably impressed with the fine appearance of the State, that he sold his Ohio farm and moved to Marion county. Then, on October 28, 1867, Mr. Lefever was united in marriage to Miss Sarah Sarber. This happy termination of the romance has proved a most agreeable union. They now have a family of four handsome boys, and one charming daughter, the objects of their parent's tenderest love and care. Mr. Lefever owns 320 acres of the best producing land in Marion county, and has a comfortable residence whose doors are always open for the cheerful entertainment of his many friends. After fifty-one years of the shifting scenes of time's panorama, he has gathered a competency for old age; and by his frank dealings and honorable intercourse with the world, has secured the lasting respect and esteem of worthy friends and neighbors, until it is a real pleasure to be counted as a friend of Van Buren Lefever.
15. Joseph Brinkman.
Joseph Brinkman was a dry goods dealer with an establishment on Broadway according to The Mirror of Hannibal, C. P. Greene, 1905 (revised edition 1990).
16. Benton Coontz.
The following biographical sketch of Benton Coontz appeared a few years before the murder of Amos J. Stillwell in 1888 in The History of Marion County, Missouri, by E. F. Perkins, 1884, at p. 918:
BENTON COONTZ. The father of Benton Coontz was R. E. Coontz, a native of Jefferson county, Va., who emigrated to Missouri in 1836, and settled at Florida, Monroe county, where Benton was born, May 26, 1838. In 1842 the family moved to Ralls county, and in 1844 came to Hannibal, where its honorable head resided until his death, March 14, 1875. When twelve years of age Benton Coontz went to learn rope making with W. P. Samuels, with whom he remained two years. Afterward, for a time, he chopped wood on the Bay Island at 50 cents per cord. The first school he attended was in the old frame on the public square. In 1854 he engaged in a country store with Martin Leister, at Cincinnati, Ralls county, where he remained two years, during which period, when but seventeen years of age, he was appointed postmaster. He soon afterwards went to Cincinnati, Ohio, to finish his education, and graduated from Bacon College in 1856. For a time afterward he ran on the river as "cub" pilot, and in 1858 began clerking for R. D. Brewington, leather dealer, with whom he remained until April, 1861, when he formed a partnership with Geo. K. Lewis in the grocery trade. He has been identified with the business interests of Hannibal ever since, as leather dealer, steamboat agent, member of the Hannibal Printing Company, etc. From 1871 to 1874 he was a member of the city council. In December, 1870, he was appointed State and county collector, vice Capt. J. D. Meredith, deceased. In 1872 he was elected to that office, and reelected in 1874, running both times as a Democrat. In 1877 he was elected mayor of Hannibal and served one term. Every enterprise for the benefit and improvement of his town and county has always had a friend and strong supporter in Mr. Coontz. He is at present connected with the Hannibal Printing Company as its traveling salesman.
17. James Plowman.
The James Plowman referred to is either James Andrew Plowman, or his son, James Wilson Plowman.
The following information on James Andrew Plowman is from The History of Marion County Missouri, by Kate Ray Kuhn, Western Printing Co., 1963, at pages 209-212:
"...James Andrew Plowman of Altoona, Pa., born 1838, married Amelia Mulholland, born Oct. 21, 1840, at Monroe, Michigan. Immediately following their marriage at Ft. Wayne, Ind., they came to Hannibal on Jan. 4, 1864. There being no bridge spanning the Mississippi River, they crossed on the ice. James Andrew had employment as a mechanic in the railroad shops here. He later became a member of a well established retail clothing store located at 201 Broadway known as Settles and Plowman. He died in 1895. ...Amelia Mulholland's ancestors were Scotch-Irish from Antrim County near Belfast, Ireland, owners of the Mulholland Linen Mills. They came to America in 1795 to Painted Post, Steuben County, New York. In 1806 they moved to Monroe, Michigan, on the River Raisin, and had to flee with their family when the Indians raided the settlers during the 'Massacre of the River Raisin'-1813. Amelia Mulholland and her three sisters were lifelong friends of General Custer, who was reared on a neighboring farm."
James Wilson Plowman started Plowman & Greenville insurance and real estate business in 1896. It was located at 509 Broadway in Hannibal, Missouri. He also ran Marion County Mutual Loan and Savings Company in Hannibal. His younger brother, Edward Morris Plowman joined him in business in 1923 when returned to Hannibal from North Dakota where he had lived for 17 years. James Wilson Plowman attended West Point. James Wilson Plowman was never married and had no children. His obituary appeared in the Hannibal Courier Post newspaper on September 1, 1943, and is as follows:
James Wilson Plowman, 77, prominent Hannibal resident who had been in the insurance and real estate business here for the past 47 years, 38 years of which time he had been secretary of the Marion County Mutual Loan and Building Association until his retirement, died at 6 o'clock this morning in the home of a brother, John L. Plowman, 1700 Crescent drive.
In poor health for some time, Mr. Plowman became ill early yesterday morning having been at the office of the building and loan association Monday night.
He is survived by two brothers, John L. Plowman, attorney at law here, and Edward M. Plowman, a member of the partnership since 1923; two nieces, Mrs. Melvin Sneed of Jefferson City, and Amelia Plowman of Hannibal; three nephews, Lieut. (jg) Wilson Plowman, U.S. Navy who is now in the North Atlantic, Bayard Plowman, U.S. Army Air Corps. Jefferson Barracks, and Edward M. Plowman, Jr., of Hannibal; two sisters-in-law, Mrs. John L. Plowman and Mrs. Edward M. Plowman.
Funeral arrangements have not been made awaiting word from Mrs. Edward M. Plowman, who is visiting relatives in Minnesota.
Mr. Plowman was born July 24, 1866, in Hannibal, the eldest son of the late James and Amelia Mullholland Plowman, his father for many years being a prominent clothing merchant here.
After receiving his education in the local public schools and graduating from Hannibal High School, he entered the United States military academy at West Point as a cadet in 1886 by appointment from the first congressional district of Missouri. He later resigned his cadetship and entered the business world becoming a salesman for Bullene, Moore and Emery Company of Kansas City, Mo., and Marshall Field and Company of Chicago, and traveled in the Oklahoma Territory for Kuppenheimer and Company of Chicago.
Retiring from this line of work, Mr. Plowman was employed by the Missouri Car Service Bureau and was assistant in the installation of a car service bureau in Texas.
On his return to Hannibal in 1896, he entered the insurance business in which field he had worked continuously since until his retirement last March as secretary of the Marion County Mutual Loan and Building Association being succeeded by his brother, Edward M. Plowman.
Mr. Plowman had been identified with many civic interests since returning to Hannibal and gave his wholehearted support to projects of community betterment.
He was one of the founders of the old Commercial Club, organized early in the present century and now known as the Hannibal Chamber of Commerce, and had served faithfully on the board of directors of the chamber for a three-year term, from 1930 to 1933.
One of the early members of the Public Library board, Mr. Plowman served on the board for four years which included that period when the present building was erected. For two years he was a member of the city council.
He was a member of First Presbyterian church and was affiliated with Hannibal Lodge No. 188 A.F. and A.M., for fifty years. He also held membership in Hannibal Order of Eagles and the Knights of Pythias. Genial and kindly, Mr. Plowman was widely known in this city.
18. George W. Pine.
George W. Pine was the Presiding Judge (now Commissioner) of Marion County in 1903 according to The Mirror of Hannibal, C. P. Greene, 1905 (revised edition 1990).
19. Thomas B. Morris.
The following biographical sketch of Thomas B. Morris appears at p. 273 of The Mirror of Hannibal, C. P. Greene, 1905 (revised edition 1990):
THOMAS B. MORRIS.
This gentleman, one of Missouri's oldest and best known newspaper men, was born in Parkersburg, W. Va., Aug. 28, 1843. He is the son of Charles F. and Martha J. (Wright) Morris, of Parkersburg, Va. Charles F. Morris served in Company F. Iowa Infantry, during the Civil War, and was fatally wounded in the battle of Prairie Grove, Ark., Dec. 6, 1862.
While in his infancy our subject's parents removed to Iowa. At Wapello, Iowa, he received his education, afterwards attending the Denmark College. While at the latter institution the war broke out and he enlisted on the 21st day of August, 1862, as a private of Capt. John Bird's Company F, 19th Regiment Iowa Volunteer Infantry. During his service his regiment took part in the engagements at Prairie Grove and Van Buren, Ark.; Ozark, Mo.; Siege of Vicksburg and Yazoo City, Miss, and Siege of Mobile, Ala. Mr. Morris was wounded in the battle of Prairie Grove, Ark., Dec. 7, 1862, by a gun shot wound in the left side. After recovery he re-enlisted on the 26th day of February, 1863, and was mustered into service as corporal in the Eighth Regiment Iowa Volunteer Cavalry, Company M. His regiment was mustered out of the volunteer service on the 13th of August, 1865. Regarding Mr. Morris' service the official record further states: "For faithful and efficient service the said Thomas B. Morris was promoted to Corporal, Duty Sergeant, and commissioned Lieutenant of his company. He was constantly with his command, participated in all of its engagement, rendered gallant and meritorious service." After being discharged Mr. Morris returned to Wapello, Iowa, where he went into the printing business; afterwards started the first paper ever published in Kahoka, Mo. Since that time he has established eight papers in Missouri, all of which to-day are in a prosperous condition.
On the 22nd of June, 1875, he was united in marriage to Miss Lucy Blaine, at Bowling Green, Mo., from which union were born the following children: Nellie, wife of W. H. Scott, and Fenton B. In 1881 Mr. Morris came to Hannibal and five years later established the "Daily Post," in company with B. F. Brown. This he conducted successfully for five years, when he purchased the "Daily Courier" and consolidated the two under the name of the "Courier-Post." Mr. Morris is a member of William T. Sherman Post, No. 43, G. A. R., and the I. O. O. F. He was a delegate from the First Missouri District in 1900 to the National Convention at Philadelphia and is at present a member of the State Republican Committee from the First Missouri District.
In the management of his paper Mr. Morris has at all times supported measures calculated to aid in the development of Hannibal and he has made the "Courier-Post" a power in the cause of overthrowing vice and corruption in this city. The course he has taken has at all times merited the approval of the masses and has won for him the high esteem and implicit confidence of the entire community, as a consequence of which the "Courier-Post" to-day enjoys a most extensive patronage from all classes in this section.
The following photograph of Thomas B. Morris is from page 278 of The Mirror of Hannibal, C. P. Greene, 1905 (original edition):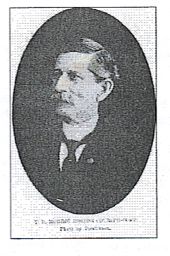 20. Col. Rufus Easton Anderson.
The following biographical sketch of Col. Rufus Easton Anderson appeared a few years before the murder of Amos J. Stillwell in 1888 in The History of Marion County, Missouri, by E. F. Perkins, 1884, at p. 599:
RUFUS EASTON ANDERSON. Among the names that figure conspicuously in Marion's county's history, none is better known than that of Rufus E. Anderson. He is a son of Thomas L. and Russella (Easton) Anderson. His grandfather, Rufus Easton, was the second delegate to Congress from Missouri Territory. A biographical sketch of his distinguished father appears elsewhere. Rufus E. was born in Palmyra, Missouri, January 22, 1833, where he grew to manhood. He was educated at the Masonic College and at the Illinois College, at Jacksonville, where he graduated in 1850. He then began reading law with his father, and was admitted to the bar in 1852. He practiced his profession in Palmyra till 1877, when he located in Hannibal. Mr. Anderson has a large practice, is a shrewd, brilliant lawyer and an eloquent speaker. He is one of the leading lawyers of Northeast Missouri. Early in life he identified himself with the Masonic order, and is now one of the most prominent Masons in the State. He was Worshipful Master of Palmyra lodge and Grand High Priest of Palmyra Chapter for a number of terms. He joined the Masonic Grand Lodge of the State, passing through all the chairs, holding the office of Grand Master in 1874, and Grand High Priest in 1875, and Deputy Grand Commander in 1882. In the meantime he was chairman of several of the most important committees. His speech at the laying of the corner stone of the Merchants' Exchange in St. Louis, as Grand Master of the Masons, was said to have been the finest effort, of the kind, ever made. Mr. Anderson is a prominent member of the M. E. Church South. In 1854 he married Miss Cornelia, daughter of Thomas E. and Margaret M. (Williams) Thompson, of Marion county, Missouri. Her father was for a number of years circuit clerk, and at the time of his death was president of the Marion County Savings Bank. Mr. and Mrs. Anderson have had nine children, six of whom are living. Many of the public services of Mr. Anderson are mentioned elsewhere in the body of this work.
The following portrait of Col. Rufus Easton Anderson is from page 1005 of The History of Marion County, Missouri, by E. F. Perkins, 1884: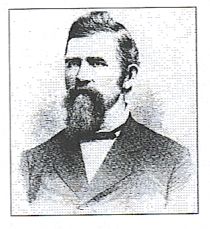 The following photograph of Rufus Easton Anderson is from page 436 of The Mirror of Hannibal, C. P. Greene, 1905 (original edition):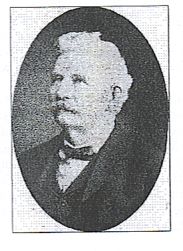 The following biographical sketch of Rufus Easton Anderson appears at p. 370 of The Mirror of Hannibal, C. P. Greene, 1905 (revised edition 1990):
RUFUS E. ANDERSON. This gentleman is one of Hannibal's most eminent lawyers. He is a son of Thomas L. and Russella (Easton) Anderson, both now deceased. Thomas L. Anderson was one of the distinguished lawyers of Marion County, being admitted to the bar in 1829, before he became of age. He practiced in Kentucky until 1830, when he removed to St. Charles, Mo.; in 1831, married Russella, daughter of Col. Rufus Easton, and in 1832 located at Palmyra. He once served on the Governor's staff, was elected to Congress in 1852, and in 1858 he served in the House of Representatives until the outbreak of the war. He died at Palmyra in 1886. Russella E. Anderson, mother of our subject, was a daughter of Col. Rufus Easton, of Litchfield, Conn. She died in 1840, leaving three children, William R., the only surviving brother, now practicing in Palmyra. Col. Anderson's second wife was Fannie M. Wichell, of Palmyra, a native of Massachusetts.
Rufus E. Anderson was born January 22nd, 1833, at Palmyra. He was educated in the common schools there and afterwards attended the Masonic College at Philadelphia, Mo., and the Illinois College at Jacksonville, Ill., where he remained for three years. He then entered his father's law office and was admitted to the bar in 1852. He at once entered into partnership with Henry S. Lipscomb and afterwards with W. M. Boulware. His connection with the latter continued until 1877, when he removed to Hannibal and here opened an office. From the first he rapidly arose in the estimation of all. Eschewing political office, he devoted himself the more earnestly to his profession, and may well be proud of the progress he has made. He has been practicing successfully as a criminal lawyer, and has tried successfully some of the most noted cases in this section. He was elected Prosecuting Attorney in 1888, serving two years.
On January 11th, 1854, he married Cornelia F. Thompson, daughter of Thomas E. and Margaret (Williams) Thompson. They have had nine children, namely: Edwin L., now in California; Maggie T.; Mrs. H. H. Markell, of Palmyra; Nellie F., wife of A. R. Betts, of Cincinnati; Russella, who is at home; Rufus E. and Russell, Juliet, Fannie C. and Annie Y. are deceased.
Judge Anderson is famed as an orator and enjoys an enviable place in the Masonic order, having been Worshipful Master at Palmyra and Hannibal for more than thirty years. He has at times held the offices of High Priest and Eminent Commander. He has taken the Knights Templar orders and is now chairman on grievances and appeals in the Grand Commandery. He has attended every session of the Grand Lodge of Missouri for forty years, having served many times as chairman on important committees. In October, 1873, he was Grand Master of the Grand Lodge and the following year was Grand High Priest of the Grand Chapter. In June, 1874, he, as Grand Master, officiated at the laying of the corner stone of the St. Louis Merchant's Exchange, and by the officers of that organization was presented with a handsome silver trowel.
His address, with its graces of rhetoric, elevating moral sentiments and general brilliancy, marks him as one of the eminent orators of the day. In 1886 he was chosen Deputy Grand Commander of the Grand Commandery of Knights Templar; one of the incorporators of the Masonic Home of Missouri, organized in 1887, was made a director of the same and still serves as such. Upon the death, in 1904, of John D. Vincil, Col. Anderson was by Judge Leroy B. Valiant, present Grand Master of Masons in Missouri, appointed chairman of the committee on Foreign Correspondence, and is now acting as such. Mr. Vincil held this office for twenty-five years. Col. Anderson is also a 32nd degree Scottish Right Mason and a Shriner.
Though brought up in the Presbyterian faith, his chivalry prompted him to adopt that of his wife, who was a Methodist. He has represented this denomination in the General Conference in Louisville, and for over thirty-five years has been a frequent delegate to the conferences of his church. For many years he has been one of the most respected inhabitants of Hannibal, in which city and vicinity he has an exceedingly large clientage. His opponents recognize in him one who is worthy of their best efforts and his candor and sincerity and logical reasoning generally bring the verdict of the juries before whom he pleads his side of the argument.