Library Scrapbook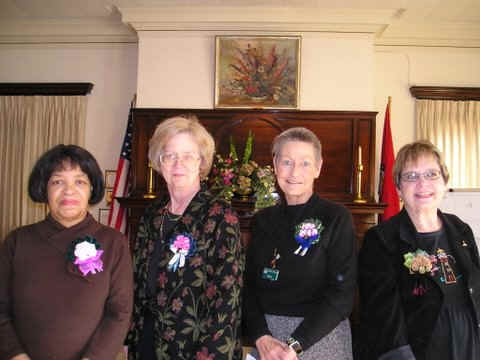 Library Tea Honors Staff
The Hannibal Free Public Library held an open house on Saturday, February 25. Called a Library Tea, its purpose was to thank volunteers and honor staff who celebrate significant anniversaries in 2008. The Library Board of Trustees honored the two volunteers and four staff members with proclamations. The Library presented each with a floral corsage, and a library book will be plated in honor of each person. Refreshments were served to about 25 participants.

Two volunteers were honored, who regularly contribute their knowledge, skills, and abilities to providing library services in Hannibal. Barbara Eddy processes books. Library Director Hallie Yundt Silver commented, "This is the library's way of describing what is done to make ordinary books into library books. Everything has to be done precisely, and Barbara's attention to detail is much appreciated. Without her assistance and efforts, there would be more time delay between the library's acquisition of a book and its circulation."

Theresa Tatman is the Library's other faithful volunteer. Theresa participates in the RSVP's Walking Books Program. This program, through volunteer efforts, is the way the library delivers books and other materials to people who are physically unable to get to the library. "All of us would like to remain active, but when we cannot get out and about because of a broken leg, long-term illness, or nursing home residency, it is nice to know that people like Theresa will bring the library to us," Yundt Silver commented.

Library staff were honored for their successful contribution during their years of service. Ll'Tanya (Toni) Rose has contributed over 20 years to the Library as its bookkeeper. Donna Caldwell was honored for 20 years as the adult cataloger and more recently collection developer. Sharon Lamberson completes 15 years of service this year with much of her attention focused on teens. Margaret (Peggy) Northcraft, at 10 years of service in 2008, is the Library's Assistant Director and Children's Librarian. She also contributed recently as the Interrim Director. Yundt Silver commented, "HFPL's biggest appeal for me was the people I would be working with, particularly the warm, welcoming staff. Each person on my staff is smart, capable, and hard working. Each has something unique to contribute and the sum of our whole makes for a very strong library organization indeed."
Yundt Silver took the opportunity to discuss services the Library would offer the community in 2008. She stated that the Library will continue to provide strong traditional library services. "Provision of public use computers must also be considered a strong traditional library service. For those of you who think that libraries and books are inseparable, you will always be able to find the bestsellers you hear about on the TV talk shows. In fact, I like suggestions for purchase, so please inquire about books we do not currently have in the collection." Large print materials are a core collection. Children's services remain a priority.

In addition to its strong traditional services, Yundt Silver commented on innovative services. She looks to improve the audiobook collection soon. Continued progress on digitizing local history collections is planned. "Our collection of local history is one of the unique features of our library. Digitized local history collections are available through HFPL's website. To date, we have digitized photos, city directories, and several books. The next step we need to take soon is learning how to digitize audios. Like many public libraries in the US, we have a collection of spoken word cassettes that was recorded in 1976 as part of the country's sesquicentennial celebration. These need to be preserved and made available to a wider audience. We also house Mrs. Hagood's index of local history. It is on 5x8 cards and very useful to researchers. This collection needs to be wordprocessed into a database and mounted on the website."
Yundt Silver talked about providing service to the entire community. She stated, "HFPL needs to increase services to Hispanics, blacks and other people of color. We need to seek our newcomers to the community and welcome them as library patrons. HFPL needs to make certain its services are accessible to the various disabled communities within Hannibal." Improving literacy in Hannibal is another role for the Library.
Yundt Silver went on to comment, "Revitalizing the Friends of the Hannibal Free Public Library is one of my priorities, too. This group was active in the early 1980s. Friends contribute so much to a library program. They are the ambassadors for the library. They are the core group of volunteers that the library relies on. They are a sounding board and provide a community focus for planning. They are our Friends." She asked participants to indicate interest in joining the Friends.
Yundt Silver concluded by saying, "Today's event offers us a chance to unveil a future project. The Board and I have been looking at the building and grounds. We need to renovate the original building, particularly the electricity. The gravel lot to the south of the building needs to be paved. It has been over twenty years since the addition, and you will remember my comment about planning for 20 to 30 years growth. We are out of space and have been since the advent of the technology revolution when public use computers were added to the list of our traditional library services."

MOlibraries Snapshot Day 10.14.2015