Incorporated on March 1, 1985, Friends of the Hannibal Free Public Library is an association of people interested in our Library. We focus public attention on the Library, and we stimulate the use of its resources and services.
Friends raise funds and encourage the donation of gifts, endowments, bequests, and memorials to Hannibal Free Public Library. We support and cooperate with the Library in developing services and facilities for the community. When needed, Friends provide volunteers for services within the Library. We particularly like to help with book sales and Library events.
Friends act as advocates on a local, state, and federal level, and to support the Freedom to Read as expressed in the American Library Association Bill of Rights.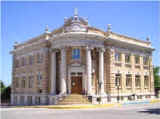 Notecards

Friends of the Hannibal Free Public Library sell boxes of 10 folded cards and envelopes. These lovely cards show a photo of our beautiful neo-classical library building.
They may be purchased at the Library for $10 a box or by mail for $13 a box. Sales tax is included in the price. Checks should be made payable to:
Friends of the Hannibal Free Public Library.

Upcoming Events

of Interest to the Friends

BOOK SALES
Please check Library Calendar for dates and information

ANNUAL MEETING OF THE FRIENDS

Thursday, October 20, 2022, 5:30-6:30 p.m.

LIBRARY OPEN HOUSE

Thursday, November 3, 2022, 3:30 p.m. - 5:30 p.m.

SUMMER KICK-OFF AT THE PARK & FRIENDS FUNDRAISER

Wednesday, May 31, 2023 2:00 - 4:00 p.m.

SUMMER FINALES FOR CHILDREN, TEENS & ADULTS

First week in August 2023, TBA

INTERNATIONAL TALK LIKE A PIRATE DAY

Monday, September 19, 2023

ANNUAL MEETING OF THE FRIENDS

Thursday, October 19, 2023, 5:30-6:30 p.m.




Contact the Friends


Since we are a volunteer organization, the most effective way to contact us is through the Library Director.

Caitlin Greathouse, Library Director

Hannibal Free Public Library

200 S. Fifth St .

Hannibal , MO 63401

cgreathouse@hannibal.lib.mo.us

phone: 573-221-0222

fax: 573-221-0369

Meetings

The Friends Board meets on Thursdays as scheduled.

Friends meet at events and at their annual meetings.


Members of the Friends and other interested parties are always welcome to attend.

Annual Meetings of the Friends and election of officers are in October.

.

Minutes of previous Friends meetings include:

October 18, 2018 Annual Meeting

October 24, 2019 Annual Meeting

Return of Private Foundation
7

20




Contact Us to Request an Accommodation for a Disability

Hannibal Free Public Library and its Friends attempt to make services as barrier free as possible. Requests for Accommodation are addressed quickly, often within the week they are made. To request accommodation or to discuss a special need, please contact the Library Director by phone at 573-221-0222, or via email at

cgreathouse@hannibal.lib.mo.us